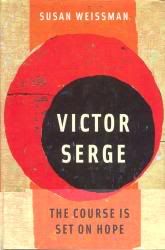 Publication
Cloth: August 2001
Paper: June 2004
381 pages
27 b/w photographs
Victor Serge was, according to his friend Julian Gorkín, an "eternal vagabond in search of the ideal." A compelling figure and a hugely accomplished writer, his is the story of a "course set on hope," a pursuit of truth, dignity and human justice set against some of the most momentous events of the twentieth century.
A Belgian-born Russian, Serge was twenty-eight when he first set foot in his homeland in 1919. Within months he had joined the Bolsheviks, and went on to participate in the first three Congresses of the Comintern before fighting in the siege of Petrograd. Because of his alliance with the Left Opposition, Serge was subjected to frequent arrests and narrowly escaped death during his eventual deportation from the Soviet Union in 1936. He remained in Paris until the Wehrmacht arrived in 1940, when he fled with his family to Marseille. Desperate for an exit visa, he was finally admitted to Mexico, where he died in poverty in 1947.
Throughout his life Victor Serge wrote prolifically and tellingly of his times: novels and short stories as well as biographies of Lenin, Stalin and Trotsky, and an enormous archive of unpublished work including correspondence, polemics and essays. Susan Weissman's biography is the first to give due weight to the extraordinary commitment and optimism of this great political writer.
"An extraordinary intellectual accomplishment." — Michael Cox
"This is a unique book about a unique man, Victor Serge, who, in being one of the first to fight for a truly humanitarian socialism, was punished for his shame at the betrayal of the revolution he so longed for." — Yevgeny Yevtushenko
"It is a pleasure to see this major witness to our time at last get the careful, sympathetic and informed biography he has so long deserved." — Adam Hochschild
Susan Weissman is Professor of Politics at Saint Mary's College of California. She is a member of the editorial boards of Critique and Against the Current, and is editor of Victor Serge: Russia Twenty Years After and The Ideas of Victor Serge.